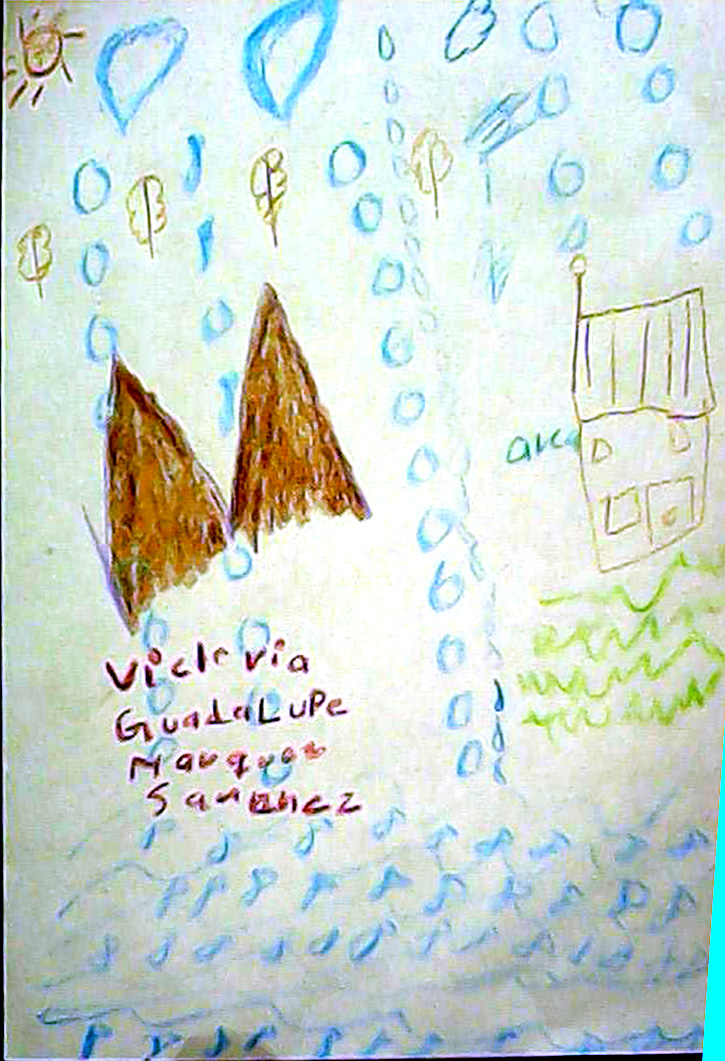 'Mi hogar del Arca (My L'Arche Home), coloured markers
Artist: Victoria Guadalupe Márquez Sánchez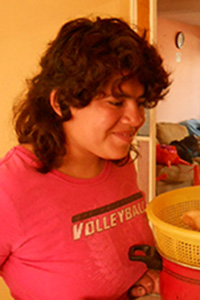 "I am 19 years old and I came to L'Arche when I was 8, and I've been living there for 11 years now.
Sometimes, my life at L'Arche has been easy, and sometimes difficult, sometimes happy, and sometimes sad – I had no idea what a home was. I used to be sad because there were people there who had no family, and when I was younger, that was painful for me. But I've discovered that people respect me, and love me and I'm happy, and this is my home.
Now that I'm grown up, I understand everything, and sometimes I feel comfortable, or else I have to make an effort, when people tell me I've done the right or the wrong thing.
I'd like to be older so that I can work, I'd like to find my own job, that's my dream."
What my drawing 'My L'Arche Home' expresses:
My drawing shows that L'Arche is my house and that it belongs to everyone living there. We've got a tree, and when you hug the tree there's love and love is friendship.
The sun shining on my face: I love the sun because it makes me warm, but the rain makes you wet, and sometimes you get ill, it's important to try and stay well. I love the mountains, I love the ones that are covered in snow, there are mountains all over the place.
I love the green meadow, because it smells nice, the rain falls on the flowers and makes them beautiful, and it makes the grass grow.
I love fish because they swim in the river and I like that. I love sea water because it's salty, and that reminds me of the holidays.
---
Llego al Arca desde los 8 años, tiene 11 años en el Arca.
"Mi vida en el Arca ha sido a veces fácil, a veces difícil, a veces contenta, a veces triste, no sabía que era una casa hogar. Era triste porque aquí estaban las personas que no tenían familia y más chiquita me era difícil. Pero aprendí que aquí me respetan, me quieren y soy contenta y es mi hogar.
Ahora que soy grande, entiendo todo, a veces me siento a gusto, me cuesta trabajo cuando dicen que hice bueno o hice malo.
Quiero ser más grande para trabajar, quiero buscar un trabajo para mí, es mi sueño
Lo que expresa mi dibujo:
En el dibujo representa que es mi casa en el Arca y la de todos los que vivimos, tenemos un árbol, si abrazas el árbol es el amor, el amor es la amistad.
El sol que brilla la cara, el sol me gusta porque me calienta, la lluvia es la que te mojas y a veces te enfermas, es cuidar tu salud. Las montañas me gustan porque me gusta ver las que se llenan de nieve y en todo el país, hay montañas
El pasto verde me gusta porque huele rico, la lluvia baja y cae en las flores y son bonitas y crece el pasto.
Los peces me gustan porque nadan los peces en el rio y eso me gusta. El agua del mar me gusta porque tiene sal y me recuerda cuando vamos de vacaciones."
Contact
L'Arche Mexico (Mexico City, Mexico)