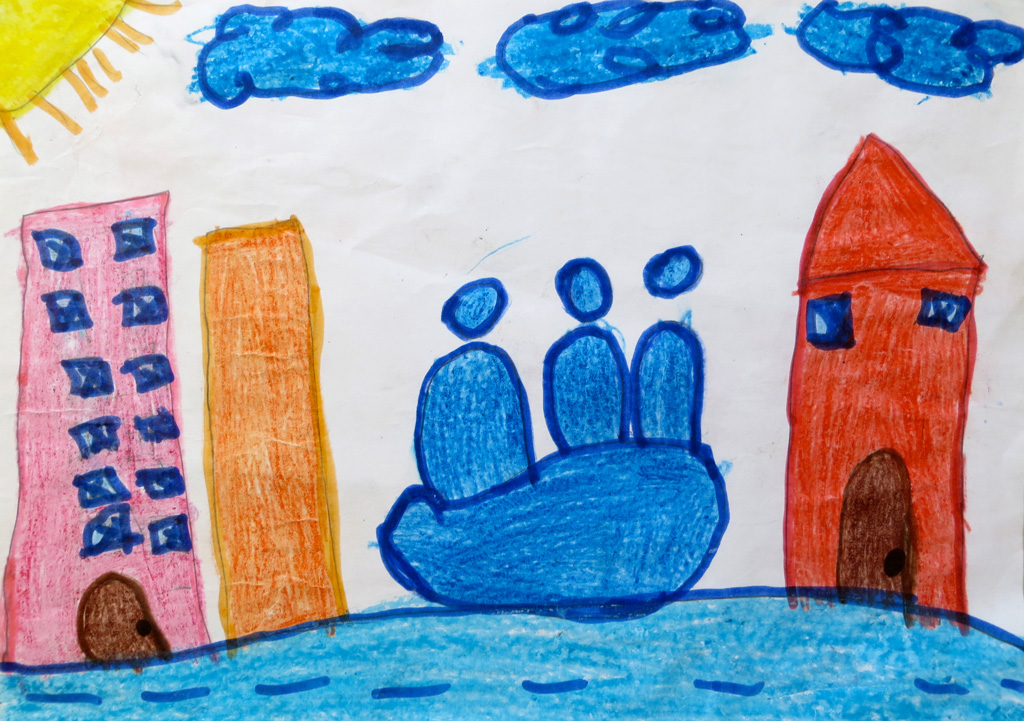 '50 years of the Founding of L'Arche in Sorocaba','50 años, fundación del Arca en Sorocaba' canetas hidrografica (felt pen) y lapis de color (colored pencil),  2013
Artist: Alicia Ludmilla Dornelas Lima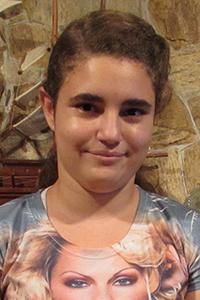 Alicia Ludmilla Dornelas Lima is from the city of Santos, in the São Paulo state of Brazil. Born on January 25, 2001, she is thirteen years old. Alicia has a younger brother, called Nicolas Augusto, born on January 23, who is eight years old . Her father is named André Luiz, and he is an electrician and music composer. Her mother is named Carla and she graduated as a teacher.
Alicia lived in Santos until she was seven years old, and then the family needed to move to the city of Campinas, due to her father's work. In Sorocaba, Alicia had the opportunity to study in specialized schools, based on her limitations. From 2010 until now, she gets better each day, improving her speech, and her reading and writing skills.
Alicia is a very lovely girl, who likes to walk and play with her pets. She is very smart, likes to use the internet, talk with her friends, play games and listen to music. Alicia has limitations, but also she has dreams and plans – these are without limits and do not fit on a sheet of paper, and only she can tell about them.
---
Alicia Ludmilla Dornelas Lima é natural de Santos, estado de São Paulo, Brasil. Nasceu em 25 de janeiro de 2001, portanto está com treze anos. Alicia tem um irmão menor, chamado Nicolas Augusto, que faz aniversário em 23 de janeiro, está com oito anos hoje. Seu pai chama-se André Luiz, é eletricitário e compositor musical. Sua mãe chama-se Carla. Fez magistério.
Alicia morou em Santos até os seus sete anos, quando a família precisou mudar para a cidade de Campinas, por causa do trabalho de seu pai. Em Sorocaba, Alicia teve a oportunidade de estudar em escolas especializadas, face as suas limitações. De 2010 para cá, ela vem melhorando a cada dia, aprimorando sua fala, leitura e escrita.
Alicia é uma menina muito amorosa, gosta de passear e de brincar com seus animais de estimação. Ela é muito esperta, gosta de internet, conversar com seus amigos, jogar e ouvir música. É uma menina cibernética. Alicia tem limitações, mas também tem sonhos e planos, estes sem tamanho, não cabem numa folha de escrever, e somente ela pode dizer.
Contact
Arca do Brazil (Sao Paulo, Brazil)